Dealer's Choice / Patrick Marber
The dealer rules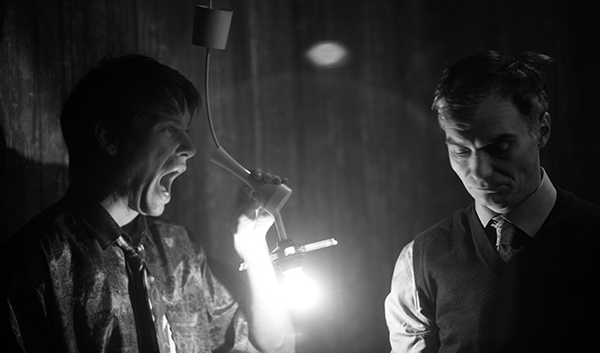 David Novotný • Václav Neužil • Hynek Čermák • Martin Myšička / Matěj Hádek • Jaroslav Plesl • Ivan Trojan
translated by Dana Hábová set design Martin Chocholoušek costume design Zuzana Bambušek Krejzková music Michal Novinski dramaturgy Eva Suková
directed by Jiří Pokorný
---
PREMIERE 11.12.2010
RUNNING TIME 2 hours 50 minutes, including an interval
PRODUCTION SPONSOR Metrostav a. s.
---
Dealer's Choice is the début work of Patrick Marber, known in the Czech Republic for his plays Closer and Howard Katz, amongst others.
The employees of one London restaurant meet every Sunday in the restaurant basement for a round of poker. One day a mysterious man, who turns out to be a professional poker player, turns up. The restaurant owner invites him to the poker table. A tense round of poker starts where cards aren't the only issue at stake.
The 1995 staging of the play, directed by the author, won the prestigious Evening Standard Award in theatre for Comedy of the Year.

"Marber is a unique author. I wouldn't say that he's the best, but he is a genius. His plays deal with issues that I have to deal with in my own life. Social frustration is the inability to confront the state with the injustice that occurs."
Jiří Pokorný in conversation with Český rozhlas

"I like that British sharpness, that ability to talk about things as if they're calm, while being incredibly tense inside."
Václav Neužil ('Mugsy') in conversation with radio station Český rozhlas

For the role of Mugsy, Václav Neužil was awarded the 2011 Thalia Award.