The Man Without a Past / Aki Kaurismäki
A play about love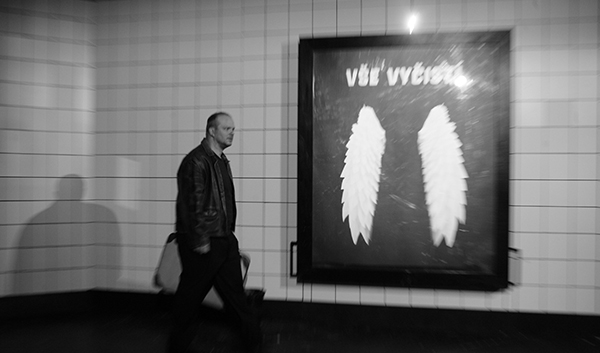 David Novotný • Martin Myšička • Ivan Trojan • Jaroslav Plesl • Pavel Šimčík • Václav Neužil • Pavol Smolárik • Tatiana Vilhelmová • Johanna Tesařová • Lenka Krobotová • Klára Melíšková • Simona Babčáková / Petra Hřebíčková • Martha Issová • Jana Holcová • Zdeňka Žádníková • Kateřina Jáchymová and others
translation Pavla Arvela costumes and scenes Andrej Ďurík dramaturgy Karel František Tománek music and musical training Marek Doubrava stage movement Kristýna Lhotáková
directed by Miroslav Krobot
---
PREMIERE 21.01.2010
DERNIERE 18.06.2017
RUNNING TIME 1 hour 30 minutes, without an interval

---
Antero Lujanen wakes up and realizes that he can't remember his name, where he works, or whether he's even married, absolutely nothing. He finds himself among the homeless, but his fate is in his hands.
He meets Irma, a member of the Salvation Army and everything starts to take a turn for the better, but only until that moment when he learns that he's...


This kind of theatre is a little "different", this new offering from the Dejvické divadlo. In The Man Without a Past, based on a film by Finnish director Aki Kaurismäki, director Miroslav Krobot forces his actors to forget about everything we imagine about acting. With no makeup on, the cast speak their lines "normally", dry without practically any gestures. But looking at them doesn't make us forget in the least about that which is really important up there, that they are listening to each other and communicating in silence and with their own special humor. They are characters and themselves.

This extraordinarily sensitive inner-connection among all the players is accompanied by the music of Marek Doubrava, which permeates every scene, gives them a solid structure, a shape... a voice emanating straight from the heart.

The dramatic adaption of Kaurismäki's film is a simple, almost ingeniously trivial story. A man is assaulted and beaten by thugs at the train station and loses his memory. He has to learn everything again, as if he were seeing the world, things and human relationships for the first time, innocently like a child. He starts from "scratch", with the homeless, and gradually realizes what is really important in life. He finds love in his relationship with Salvation Army worker Irma (Tatiana Vilhelmová).

The dramatic action shifts to a random episode with bank robbers, thanks to which he finds himself at the police, in the bureaucratic machine... and back in his "former" life. But finally we see the happy ending that makes a person feel relief as with the obligatory fairytale statement "And they lived happily ever after." We don't think about whether we're still talking about the real world or not.

The Man Without a Past is more like a real story about a fable, a picture that summons up disenchantment and the question: what and how much is important of that which we wring out of life. Together with The Man Without a Past (David Novotný) we witness that special lightness of being that occurs with a loss of memory, putting all our apparently important things, values, and relationships "to the side", and cleansing ourselves of everything that we used to be. We feel that after a long period of time we can once again hear ourselves, hear our hearts beating. Maybe even hear that someone.