39 Steps / John Buchan, Alfred Hitchcock
Comedy inspired by the classic Alfred Hitchcock spy movie from 1935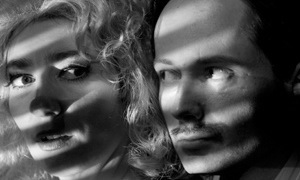 Jaroslav Plesl • Simona Babčáková / Tatiana Vilhelmová • Václav Neužil • David Novotný
translation Pavel Dominik set design Martin Chocholoušek costumes Martin Chocholoušek and Vladimíra Fomínová
music Matěj Kroupa dramaturgy Eva Suková
directed by David Ondříček
---
PREMIERE 28.05.2008
DERNIERE 06.11.2018
RUNNING TIME 2 hours 10 minutes, including an interval
PRODUCTION SPONSOR Metrostav a. s.
---
Courtesy of Edward Snape and Fiery Angel Limited
Adaptation: Patrick Barlow
Original story: Simon, and Nobby Dimon Corble



The play was produced for the first time in June 2005 in West Yorkshire Playhouse theatre (directed by: Fiona Buffini); in August 2006 it had its premiere in Tricycle Theatre in Kilburn (directed by Maria Aitken). On September 14, 2006 the production was transferred to Criterion Theatre in West End in London, where it is being continuously played up to the present time.
The production was awarded the Laurence Olivier Award for the best comedy of 2006.
This production is licensed by Carlton Film Distributors Ltd.

The original for writing this British comedy became a homonymous and today already a classic movie by Alfred Hitchcock of 1935.
The director David Ondříček, for whom this production was also the first theatre direction, results not only from the theatre text, which was written by its author for four persons, but he was also inspired by the Hitchcock's cinematization of the original spy novel by John Buchanan of 1915.
By a peculiar coincidence the principal character Richard Hannay gets into an unenviable situation. An unknown agent is murdered in his flat and he becomes the prime suspect of her murder. The hunt for the criminal starts, during which Hannay tries not only to escape, but above all to find and convict the right culprit.