The Elegance of the Molecule / Petr Zelenka
Three molecules and three men with a vision, willing to take risks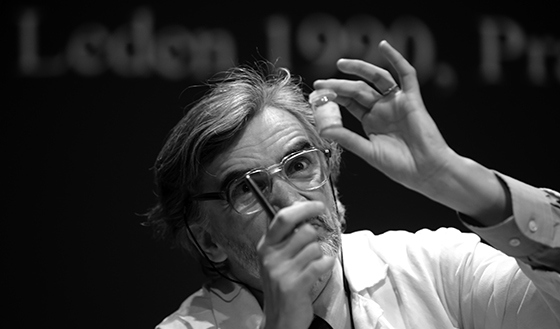 Ivan Trojan • Veronika Khek Kubařová • Martin Myšička • Pavel Šimčík • Petr Vršek • Zdeňka Žádníková • Vladimír Polívka • Václav Jiráček • Elizaveta Maximová • Lada Jelínková
set design Nikola Tempír costumes Michaela Horáčková Hořejší dramaturgy Olga Šubrtová
directed by Petr Zelenka
---
PREMIERE 05.04.2018
RUNNING TIME 2 hours 20 minutes, including an interval

---
A chemical laboratory is often just a few hundred metres away from the pharmacy on the corner. But on this journey, a molecule of a medicine passes through hundreds of millions of dollars worth process on which thousands of people participate. That is to say, the one molecule lucky to reach the finish line. The Elegance of the Molecule tells a story of three such substances and their three "fathers", one of them being professor Antonín Holý, a Czech chemist genius. The play deals with the genesis and the dramatic industrial development of substances produced by Czech chemical laboratories that are used today by more than sixty percent of AIDS patients all over the world.
Otto Wichterle had his famous story about constructing a Merkur (a construction set for children built in Czechoslovakia) based apparatus for experimental production of his first soft contact lenses. Petr Zelenka's play is looking for a similar "Merkur" in the life of Antonín Holý.

A story about a strong vision, prescience, luck and a reward that came too late.

The production was supported and financially funded by the Neuron Benevolent Fund for Support of Science.

Set design: Nikola Tempír
Costumes: Michaela Horáčková Hořejší
Dramaturgy: Olga Šubrtová
Projection: Anebo Tou-fu
Specialist consulting: Ing. Petr Alexander, CSc.
Director: Petr Zelenka

CAST:
John C. Martin – Ivan Trojan
Rosemary Martin, his wife – Veronika Khek Kubařová
Antonín Holý – Martin Myšička
Ludmila Holá, his wife – Zdeňka Žádníková
Erik De Clercq – Pavel Šimčík
Ivan Rosenberg / Petr Alexander / Zdeněk Havlas – Petr Vršek
Michael Riordan – Vladimír Polívka
Donald Rumsfeld – Václav Jiráček
Pavla, a journalist – Elizaveta Maximová
Jane / Hana – Lada Jelínková

THE PLAY WON A THEATRE CRITICS' AWARD IN 2018 AS THE BEST NEW CZECH PLAY OF THAT YEAR.

This play by one of the Czech Republic's most accomplished contemporary playwrights looks at the complex figure of Professor Antonín Holý, the Czech chemistry genius who was one of the fathers of the AIDS drug now used by over eighty percent of patients all over the world. It is often no more than a few hundred meters from the chemical laboratory to the pharmacy on the nearest corner. On its way from one to the other, however, a molecule of the drug passes through a process costing hundreds of millions of dollars and frequently participated in by thousands of people. If, that is, the molecule is lucky enough to reach its goal. Zelenka's play follows three such substances and their three "fathers", one of whom was Professor Holý. It looks at the creation and highly dramatic industrial development of substances from Czech chemical laboratories, combines documentary elements and fiction, and lightens scientific facts with humor.

PETR ZELENKA says of his work on the play:
"Although I know almost nothing about chemistry, I began to be proud of Professor Holý. He and the people around him had a huge amount of luck, of course, but their invention, which works so well in practice, is a thing of genius. He and his team invented the effective termination of DNA transcription. They were in the right place at the right time, and they were prepared. Their life story covers the end of the bipolar world, the rise of HIV and also the rise of the gigantic pharmaceutical company that entered the world top ten as a result of those three Czech molecules. I started talking about all this to my friends and acquaintances and discovered that most of them did not know who Antonín Holý was. So, I started writing. "

Prof. RNDr. ANTONÍN HOLÝ, DrSc.
Organic chemist Antonín Holý is one of the most successful and distinguished Czech scientists. His greatest achievement of global significance was the discovery of an active substance from which drugs were made for patients infected with the HIV virus or AIDS, and B-type hepatitis. From 1960 he worked at the Institute of Organic Chemistry and Biochemistry (IOCB) of the Academy of Sciences of the Czech Republic in Prague as a
postgraduate in chemistry, later as a research worker, going on to take up the post of chief researcher in 1967. Since 1983, he has been the leader in the nucleic acid chemistry group and has been the head of the nucleic acid department since 1987. He was director of the IOCB CAS from 1995 to 2002.
At the Göttingen Symposium in 1976 Antonín Holý met Dr. Erik De Clercq from the Virology Institute of the Catholic University in Leuven, Belgium. Some of the substances that he sent to him for testing showed activity against so-called retroviruses, including the HIV virus. They subsequently collaborated on the development of antiviral preparations, which resulted in 15 other patents and a great friendship. The biochemical group of the Institute of Organic Chemistry and Biochemistry gradually became involved in the research, and began to investigate the mechanisms of the effects of those substances. Antonín Holý and his team discovered a group of substances called "acyclic nukleoside phosphonates", which have become the basis of the new generation of anti-virus drugs.
…He had many other compounds in storage, but he only sent me three for testing. This was to see if I could be trusted. And I evidently could be, so he sent me another twenty compounds, and then hundreds more later…."
(Erik De Clercq)

ERIK DE CLERCQ, M.D., Ph.D.
Belgian doctor, virologist and biochemist. Studied medicine at the Catholic University of Leuven (Belgium) and gained international experience at the University of Washington in 1970 before returning to his alma mater in Leuven, where he became a lecturer in microbiology and biochemistry at the Faculty of Medicine in 1977. Home at the Rega Institute he started studying the interferon field in the experimental treatment of viral infections immediately after completing his studies. In the mid-1970s, he and his team began to fully devote themselves to antiviral research, which led to the discovery of several of the first anti-HIV drugs. From 1976 he worked with Antonín Holý on the development of new antiretroviral drugs, of which tenofovir became the most famous. Erik de Clercq came up with the basic concept of combined therapy, which is still the most effective treatment strategy for patients with AIDS or people with HIV. He currently works as an emeritus professor at the Rega Institute in Leuven, and is also a visiting professor at the University of South Bohemia in České Budějovice, where he lectures in a joint programme organised with Kepler University in Linz, "Biochemistry in the Medicine Services", and is also a member of the Neuron International Scientific Board.

JOHN C. MARTIN, Ph.D.
One of the most powerful people in the medical business, but also a successful scientist, a chemist. Key figure of pharmaceutical giant Gilead Sciences. Prior to joining Gilead Sciences in 1990 as Vice President for Research and Development, he held leading positions at Bristol-Myers and the Syntex Corporation. During his time at Gilead Sciences, the US Food and Drug Administration (FDA) approved the distribution of HIV/AIDS drugs developed on the basis of Antonín Holý's research and tested at Erik De Clercq's laboratory, which completely transformed people's views about this fatal disease. They have saved the lives of millions of patients and are still the most effective drugs for HIV/AIDS infection.In addition, it has achieved great success in marketing the Sofosbuvir drug (commercial name Sovaldi). This medicine was previously used to treat hepatitis C.


A manual for a theatre event of the season: write a good play, direct it well and act it well. Sounds simple – in case the author is Petr Zelenka and the Prague Dejvicke Theatre the company at his disposal.
Zelenka's direction of the story is brisk – dialogues follow dialogues, individual lines flow over the stage like a series of clips. The well-made projections only add to the quality of the clever and engaging drama that we witness on the stage.
– Tomáš Šťástka, idnes.cz

In Elegance of the Molecule the author ingeniously connects documentary elements and fiction, plays with time, lightens the seriousness of the subject with unforced humour and cynical grimaces. He deliberately does not forgo subtle pathos and sentiment.
– Saša Hrbotický, Aktuálně.cz

Space for catharsis is opened up by the very paradox of Holý's illness and death; the man whose work helped so many people can only watch helplessly as his strength drains away. Myšička shows the scientist's drowning mind with a sort of moving astonishment that refuses reality. Holý's "opposite number" is the American John C. Martin, an ardent biochemist capable of risking a huge amount for his research. Ivan Trojan equips him with dry humour and detachment, not losing his cool even in extreme situations. He alternates enthusiasm, intransigence and emotionally-tinged admiration for Professor Holý with a confident lightness.
– Jana Machalická, Lidové noviny

Zelenka as the author does not lose his wit and irony, and compresses events in such a way that many years of waiting for test results or the search for investors in the biopharmaceutical company Gilead Sciences succeed each other with dramatic pace… [Ivan Trojan as John Martin] talks about the beauty of the molecule as if it were an antique sculpture, and his enthusiasm is so infectious that he is believed even by audience members for whom chemistry lessons were a time of suffering.
– Z. A. Tichý, Česká televize, Art Zóna

Trojan's charismatic dramatic study presents Dr. Martin as a decent, empathetic human, yet at the same time a fighter who is able to take risks. His rise to the top combines a certain dose of ethical pathos with economic vigour. Martin Myšička portrays Holý as a rather strange and irritable fellow who does not act completely fair in some situations (e. g., he dismisses a colleague who was a fellow-member of the Communist Party, purely to avoid having too high a percentage of former party members in the team when the political change occurred). Myšička's performance is especially powerful in the finale, as the sometime genius mixes up the names of his foreign colleagues with his own in a tragicomic phone call. Other acting performances are noteworthy as well: Vladimír Polívka as the boss of the Riordan pharmaceutical company, Petr Vršek in several roles of Czech scholars, and Pavel Šimčík as the distinguished Belgian biochemist Erik De Clercq, Holý's colleague and co-founder of his international prestige.
– Jan Kerbr, Divadelní noviny

PETR ZELENKA (1967) Playwright, screenplay writer, film and theatre director. Studied screenplay writing and dramaturgy at FAMU in Prague. He made his debut as a director in 1993 with a fictitious documentary about the punk band Visací zámek. His film work is among the most distinguished in contemporary Czech cinematography, with most of his films having received prestigious Czech and foreign awards. He won the main prizes at the Moscow and Karlovy Vary festivals for his films Year of the Devil (2003) and Tales of Common Insanity (2005). His film The Brothers Karamazov (2008) was put forward by the Czech Film Academy for an Oscar for best non-English film. In autumn 2015 he released his film comedy Lost in Munich to great acclaim. Petr Zelenka made his theatre debut as both an author and director in 2001 with Tales of Common Insanity at the Dejvické divadlo. The play won the prestigious Alfréd Radok Award in 2001, and in 2005 its successful film version premiered. The play has been successfully performed in a number of theatres not only in the Czech Republic, but all over Europe and even in Argentina and Uruguay. In 2006 his play Teremin premiered in the Dejvické divadlo. Ivan Trojan as the real-life Russian scientist, inventor, musician and spy L.S. Theremin won a Divadelní noviny award. Further significant plays by Petr Zelenka are Purification (commissioned by the famous Stary Teatr in Krakow, 2007), Endangered Species (National Theatre, 2011) and Job Interviews (South Bohemian Theatre in České Budějovice, 2014). In 2012 Zelenka returned as a playwright and director to the Dejvické divadlo with the play Dubbing Street, which then became the basis for the serial of the same name that he wrote and directed in 2018 for Czech Television. His most recent theatre production is The Elegance of the Molecule. Zelenka's plays have been translated into many languages, and a number of them have been published abroad, for example by the prestigious French publisher Les Solitaires Intempestifs. His collected dramatic works were published in Czech in 2012 by Acropolis under the title Common Madness.

DEJVICKÉ DIVADLO
The theatre was founded in 1992. Following the departure of the original company, headed by Jan Borna, its artistic head from 1996 to the end of the 2013/14 season was director Miroslav Krobot. From 2014-2016 the artistic head was Michal Vajdička, who had been working with the theatre from 2011 as director of the production A Blockage in the System. Since January 2017 the new artistic head has been Martin Myšička, a member of the theatre's company since 1997. The theatre's dramaturgy goes in several directions. As well as showing original plays by contemporary European and world authors, the theatre focuses on works by distinguished Czech and Slovak playwrights who write their work directly for the DD's company, and in most cases also participate in directing it (J. A. Pitínský, Miroslav Krobot, Petr Zelenka, Jiří Havelka, Karel František Tománek, Viliam Klimáček, Petra Tejnorová, Daniel Majling and others). A further significant component of the dramaturgy is singular interpretations of world classics. During its existence the Dejvické divadlo has five times been declared Theatre of the Year, with further significant awards being won both by productions and individual members of the company. Every year the Dejvice Theatre's name appears in nominations for the most prestigious theatre awards. The theatre has one of the most stable and harmonious companies of actors, with members who frequently appear in film, television and on the radio.